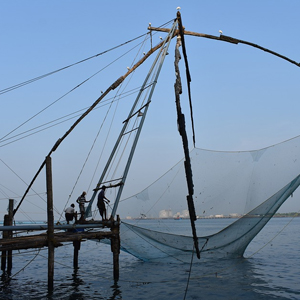 Day 1 : Cochin
On arrival in the morning pick-up and transfer to hotel. The rest of the day is free and you can choose to take it easy after your long flight, or take part in a guided sightseeing tour which will depart from the hotel. Cochin's winding streets are crammed with 500-year-old Portuguese houses, synagogues, palaces and forts, spread over a charming cluster of islands and narrow peninsulas. Accompanied by a knowledgeable city guide, we will visit the Mattancherry Palace and watch the Chinese fishing nets in action from the waterfront Vasco da Gama Square. There is plenty of opportunity too for souvenir buying today. After the tour, the rest of the afternoon is free for relaxing or further independent exploration.
Overnight in Tea Bungalow, Cochin
Meal plan: Lunch & dinner
Cochin, the 'Queen on the Arabian Sea', is a major port city that was once a much-prized pawn for the English, Portuguese and Dutch due to its strategic location and prominence in the lucrative spice trade. This history of foreign colonies has resulted in a diverse culture, with European influences visible in much of Cochin's architecture and overall development, aiding it to become the commercial and industrial capital of Kerala. 

The Mattancherry Palace, also known as the Dutch Palace, is situated in Cochin. The Portuguese palace was gifted to the king of Cochin in around 1555. Today, the palace is a portrait gallery, which is home to some of the best mythological murals in India - including Kerala murals that depict scenes from the historic kingdom of Cochin. 


Read more