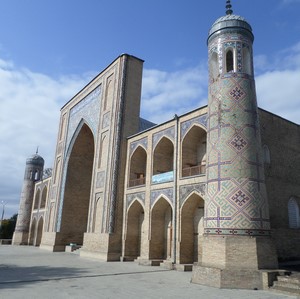 Day 1 : Arrive in Tashkent
Arrive in Tashkent Airport, where you will be met by a Travel The Unknown representative and transferred to your hotel. Spend the rest of the day exploring the city. Highlights will include visiting the Harzat Imam complex, Chorsu Bazaar and Kukeldash Madrasah. Overnight stay in Tashkent.
Meal plan: n/a
Tashkent, the capital of Uzbekistan, has had a long and turbulent history. It fell under Sogdian, Turkic and Islamic rule before being destroyed by Genghis Khan in 1219. Tashkent rose again as it profited from its position on the Silk Road, but was destroyed by a devastating earthquake in 1966 after which it was largely rebuilt again by the Soviets.

The historic Kukeldash Madrasah in Tashkent was built in 1570 by rulers of the Shaybanid Dynasty. The historic madrasah was built in a traditional style around an inner courtyard and garden. Many earthquakes in the region left the building in ruins. It has since undergone significant restoration efforts and was converted into a caravanserai during the 18th century. It was used as a barracks in Soviet times and even once served as a venue for public executions of unfaithful women.

The traditional Chorsu bazaar can be found at the heart of Tashkent's old town, near the famous Kukeldash Madrasah. Dating back over one hundred years, the bazaar sits beneath a large, blue-domed roof that is designed to keep out heat and dust. Here you can find fruits, nuts, meat, spices, fresh bread and various handicrafts.

The Harzat Imam Complex is the heart of old Tashkent. It includes several important buildings, including the lovely 16th-century Barak Khana seminary, the 19th-century Tila Shaikh mosque and Hazrat Imam mosque. The latter was built in 2007 with Indian sandalwood columns that were carved by masters from all 12 of Uzbekistan's regions. The marble was brought in from Turkey and the blue-tiled domes decorated with real gold leaf. Finally, the Muyi Moborak library contains the oldest koran in the world, created only 19 years after Mohammed's death.


Read more