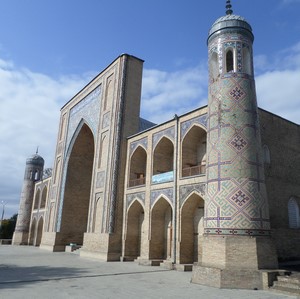 Day 1 : Arrive in Tashkent
Arrive in Tashkent Airport, where you will be met by a Travel The Unknown representative and transferred to your hotel. Morning at leisure to rest and relax after your flight. Spend the rest of the day exploring the iconic sights of the city, including: the Kukeldash Madrassah, Kaffal Shashi Mausoleum, Barak Khan Madrassah, Harzat Imam Complex and the vibrant Chorsu Bazaar. Return to hotel in the evening.

NOTE:  Clients travelling from the UK with Uzbekistan Airways would have to depart the night before.
Overnight in Manor Hotel, Tashkent
Meal plan: Breakfast & lunch
Tashkent, the capital of Uzbekistan, has had a long and turbulent history. Early on, it fell under first Sogdian, then Turkic, and then Islamic rule before being destroyed by Genghis Khan in 1219. Tashkent rose again as it profited from its position on the Silk Road, but was destroyed by a devastating earthquake in 1966, after which it was largely rebuilt again by the Soviets.

The traditional Chorsu bazaar can be found at the heart of Tashkent's old town, near the famous Kukeldash Madrasah. Dating back over one hundred years, the bazaar sits beneath a large, blue-domed roof that is designed to keep out heat and dust. The bazaar serves up an abundance of fruits, nuts, meat, spices, fresh bread, as well as various handicrafts.

The Harzat Imam Complex is the heart of old Tashkent. It includes several important buildings, including the lovely 16th-century Barak Khana seminary, the 19th-century Tila Shaikh mosque and Hazrat Imam mosque. The latter was built in 2007 with Indian sandalwood columns that were carved by masters from all 12 of Uzbekistan's regions. The marble was brought in from Turkey and the blue-tiled domes decorated with real gold leaf. Finally, the Muyi Moborak library contains the oldest Qur'an in the world, created only 19 years after Mohammed's death.


Read more