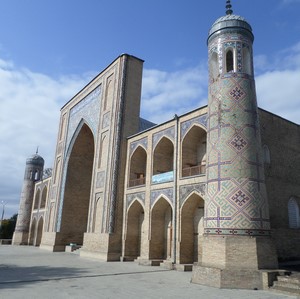 Day 1 : Tashkent
You will be met by our representative at Tashkent International Airport and transferred to your hotel for early check-in. Take the morning to rest. In the afternoon you will depart for your afternoon tour of Tashkent, covering some of the most interesting parts of the capital, including Amir Timur Square, Tashkent Metro and the Museum of Applied Arts, followed by an early evening visit to the top of of Tashkent TV Tower for panoramic views of the city.

In the evening you will have a welcome dinner your group, and a chance to get informally acquainted. 
Overnight in Inspira-S, Tashkent
Meal plan: Breakfast, lunch & dinner
Tashkent, the capital of Uzbekistan, has had a long and turbulent history. Early on, it fell under first Sogdian, then Turkic, and then Islamic rule before being destroyed by Genghis Khan in 1219. Tashkent rose again as it profited from its position on the Silk Road, but was destroyed by a devastating earthquake in 1966, after which it was largely rebuilt again by the Soviets.


Read more