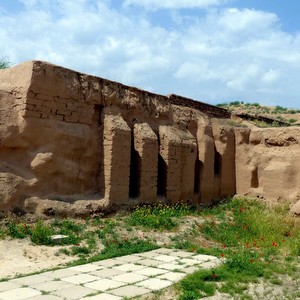 Day 1 : Arrival in Ashgabat (Turkmenistan)
Arrive into Ashgabat where you will be met by a Travel The Unknown representative and transferred to the hotel. In the afternoon, visit the Old Nisa fortress. Later, enjoy a tour of Ashgabat, visiting sites including the Monument and Independence Park, as well as the impressive Ertoghrul Ghazi mosque. We round off by exploring the National Museum of History and Ethnography (closed on Tuesdays). Overnight in Ashgabat. 
Meal plan: n/a
Ashgabat translates to "the city of love" in Arabic. This city is relatively young, being founded and developed by the Russians at the end of the 19th century. A massive earthquake in 1948 completely destroyed the city and killed two thirds of its population. It was rebuilt by the Soviets in their inimitable style, but the grand white marble palaces, domes and manicured parks seen today have mostly been built in the last 15 years to showcase the country's oil and gas wealth.

The National Museum of History and Ethnography is a great place to get a feel for Turkmenistan's long and complex history. It houses over 500,000 artifacts and relics from the country's main archaeological sites, as well as examples of national dress, traditional household equipment, a couple of enormous carpets and some traditional musical instruments

The UNESCO-listed ruins of Nisa can be found near to Ashgabat. The settlement was originally founded under the rule of the Parthian king Arsaces I in the 3rd century BC. Excavations of the site have uncovered mausoleums, shrines, ornate ivory rhytons (drinking cups) and Hellenistic works of art, indicating that the site was one of the earliest and most important cities of the Parthian empire. It was destroyed by an earthquake in the 1st century BC.


Read more