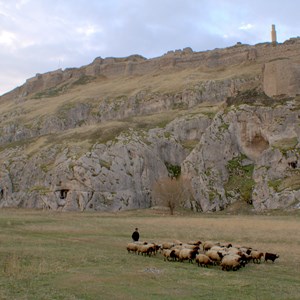 Day 1 : Van
Fly from Istanbul to Van. You will be greeted by your guide on arrival at VAN airport, from where you will visit the beautiful Van castle. After sampling some fine Turkish kebabs for lunch you will visit Akdamar Island, taking a short boat cruise to visit the ancient 10th century Armenian Church, the Cathedral Church of the Holy Cross on the island. The church was built by Bishop Manuel under King Gagik I in the 10th Century. Drive to a campsite near the Nemrut Crater Lake. Dinner and overnight in the beautiful nature.
Meal plan: Lunch & dinner
Van today is a young vibrant university town but the history of the region goes back more than 7 millennia, and the town itself was the Urartian capital as early as the 9th Century BC. 

Van Castle, outside of the modern town, is a vast sprawling Urartian structure dating from the 9th to 7th Centuries BC that affords excellent views of the beautiful surrounding countryside. Don't miss the perfectly-preserved 5th Century trilingual (Old Persian, Babylonian, and Elamite) inscription from Xerxes the Great, the only Achaemenid royal inscription located outside of Iran. The town of Van is also famous throughout Turkey for its kebabs.

Akdamar Island is a small island 3km from the Shore of Lake Van, most famous for the Armenian Cathedral of the Holy Cross (a.k.a. Akdamar Kilisesi). The unique importance of the building comes from the extensive array of bas-relief carvings, of biblical scenes predominantly, that adorn its external walls. Due to the contentious history between Turkey and Armenia the site has been the site of vandalism in the past and its restoration was never short on controversy. But the outcome is spectacular. Besides the marvellous views of the church, the island, the lake and the mountains beyond, there are ruins of an Armenian monastery which once served the church.


Read more