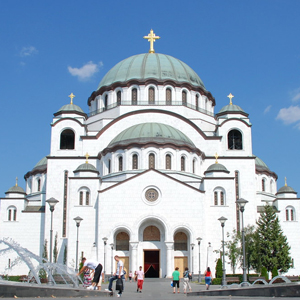 Day 1 : Belgrade
On your arrival in Belgrade you will be met and transferred to your hotel. In the evening you will go to some Rakija (Serbian plum brandy) bars and enjoy some local food and drink. Overnight in Belgrade.
Overnight in Hotel Majestic, Belgrade
Meal plan: Dinner
Belgrade has been the capital of Serbia since 1403, when Despot Stefan, son of Prince Lazar, moved his palace here. Walk through the elegant Republic Square and pay attention to its architectural monuments, such as the National Theatre and the National Museum. Stroll along Knez Mihajlova Street, the main shopping street and meeting place, to see a few other masterpieces of Belgrade architecture. 

Rakija is a traditional Serbian strong alcoholic drink. There are over 100 kinds, made from all possible combinations of fruits and healthy herbs. It is no wonder that the first Serbian patent was a kettle for making rakija! In these areas, due to terrain, altitude and ground quality, there are many high quality fruit types grown. Naturally, the rakija that is produced here under the watchful eye of an experienced master is of high quality.

The most famous and best types of rakija are shljivovica (plum), komovica (apricot) and vilijamovka (pear). There is also grape rakija, mulberry rakija, juniper rakija, cherry rakija, quince rakija and many others made of various healthy herbs. The percentage of alcohol varies from 20-55%. Those containing 20% of alcohol are usually used for making liqueurs and 'Shumadija tea' (caramelized boiled brandy). Those containing 40-55% alcohol are called prepechenica or 'chilly rakija' - double distilled rakija. Rakija is popular to drink for health or joy, and is an excellent choice for colder weather in Shumadija tea. Yet all Serbian's know, it is important only to drink it in good company.


Read more