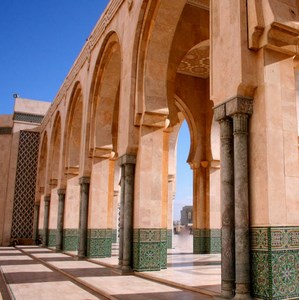 Day 1 : Casablanca - Rabat
Arrive into Casablanca. Transfer to capital Rabat. After checking in, refresh and then do some sightseeing in the afternoon, with a visit to the Mausoleum of Late King Mohammed V, a classic example of Hispano-Moorish architecture. Also visit the Hassan Tower and the Oudayas Kasbah overlooking the mouth of the Bou Regreg river.
Meal plan: n/a
The Hassan II Mosque in Casablanca is one of the largest mosques in the world. It took seventeen years to build and cost over 800 million dollars. Its spectacular setting above the Atlantic Ocean makes it one of the most scenic religious sites in the world.

Rabat is Morocco's capital city and has a more sedate air about it than other cities in the country. It has an interesting medina and important monuments, such as the Tour Hassan II and the Mohamed V mausoleum. It is always worth taking the time to explore the Oudaya Kasbah which is picturesquely-situated overlooking the Atlantic Ocean and the new marina.

The new town is one of the largest and most ambitious modern urban projects built in Africa in the 20th century and probably the most complete. The older parts include Hassan Mosque (begun in 1184) and the Almohad ramparts and gates, the only surviving parts of the project for a great capital city of the Almohad caliphate, as well as remains from the Moorish, or Andalusian, principality of the 17th century.


Read more