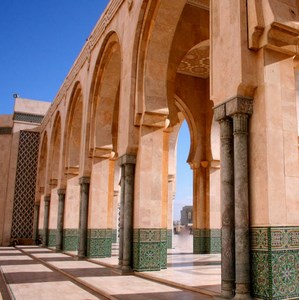 Day 1 : Casablanca - Rabat
On arrival in Casablanca you will be met by your guide and taken to the Hassan II Mosque on the seafront in Casablanca (time permitting and dependent on flight timings). Here you will be taken on a guided tour of the mosque, which is the second largest in the world, after Mecca. A construction project funded by public donations, the mosque's dramatic exterior and opulent interior remain one of the most accomplished works of art and construction in Morocco. After your tour you will be transferred to the country's capital city, Rabat, for the night.
Meal plan: n/a
The Hassan II Mosque in Casablanca is one of the largest mosques in the world. It took seventeen years to build and cost over 800 million dollars. Its spectacular setting above the Atlantic Ocean makes it one of the most scenic religious sites in the world.


Read more