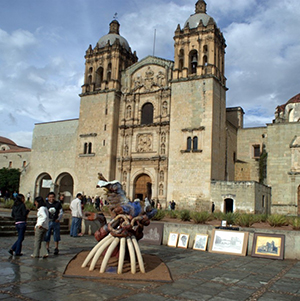 Day 1 : Oaxaca
Arrive into Oaxaca airport. You will be met at the airport by a Travel The Unknown representative and brought to your hotel. Rest of the day free. Overnight in Oaxaca.
Overnight in Azucenas, Oaxaca
Meal plan: n/a
Oaxaca is at the heart of all things indigenous in Mexico with more indigenous groups than anywhere else in the country and this is clearly visible on its streets. At the centre of Oaxaca lies the city's famous traffic-free square known as the Zocalo. This is a fantastic place to people watch with cafes lining the edges of the square and a constant flow of people weaving in and out of the square or sitting enjoying its shady benches. A colonial city, Oaxaca oozes character and boasts a vast range of crafts and contemporary art. Surrounded by famous archaeological sites, the city itself also has a fascinating history - with Aztecs, the Spanish invasion and the city's growing importance in the life and trade of southern Mexico. Earthquakes in 1854 and 1931 left much of the city in ruins and effectively uninhabitable. Oaxaca has seen the largest expansion in the last 25 years however, as migration from rural areas has increased. 


Read more