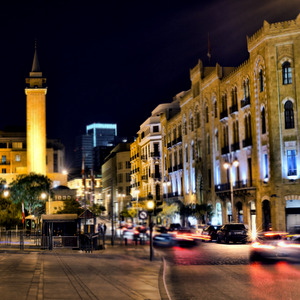 Day 1 : Beirut
Arrival into Beirut airport where you will be met by a Travel The Unknown representative. Transfer to hotel in Beirut's popular Hamra quarter. Overnight in Beirut.
Meal plan: n/a
Beirut's history goes back more than 5,000 years. According to the Encyclopaedia Britannica, its antiquity is indicated by its name, which is derived from the Canaanite be'erot ("wells"), and refers to the underground water table that is still tapped by the local inhabitants. Historically occupied by the Romans, the Crusaders and the Ottomans among other ruling dynasties, Beirut's art and architecture has had multiple and diverse influences. Excavations in the downtown area have unearthed layers of Phoenician, Hellenistic, Roman, Byzantine, Arab, Crusader and Ottoman remains. The first historical reference to Beirut dates from the 14th century BC, when it is mentioned in the cuneiform tablets of the Amarna letters, three letters that Ammunira of Biruta (Beirut) sent to the pharaoh of Egypt. Biruta is also referenced in the letters from Rib-Hadda, king of Byblos. The oldest settlement was on an island in the river that progressively silted up.

The city was known in the Roman period as Berytus, and the old Roman coins showed the head of Tycle, goddess of fortune, and the city's symbol of a dolphin entwined around an anchor. Beirut's rich artistic and archaeological history is reflected in its vast number of museums. Berytus' power was destroyed by an earthquake, tidal wave and fire in 551 A.D. In the following century Arab Muslim forces took the city and in 1110 it fell to the Crusaders. In 1291 it was conquered by the Mamlukes. Ottoman rule began in 1516 and lasted for 400 years until the defeat of the Turks in World War I. 

The French Mandate Period followed and in 1943 Lebanon gained its independence. Set between the Mediterranean and dramatic mountains rising up in the background, Beirut is one of the Middle East's most lively cities. The rejuvenation of the Beirut Central District is one of the largest, most ambitious urban redevelopment projects ever undertaken. While Beirut has become one of the Middle East's most modern cities, it still maintains its fascinating history and beautiful sites, as well as a thriving arts scene. Until the civil war ended in 1990, most of the archaeological sites discovered were found by accident. However, since then there have been excavations to uncover and investigate these phenomenal sites. The Green Line was a line of separation between the Muslims in West Beirut and the Christian front in East Beirut. It was green because it was uninhabited and therefore covered in vegetation. The local people are renowned for being extremely friendly and charming.


Read more