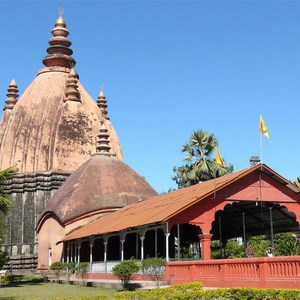 Day 1 : Dibrugarh - Sibsagar
Arrive into Dibrugarh. Your guide and driver will escort you to Sibsagar, the former capital of the Ahom Dynasty. Evening free to rest. Overnight in Sibsagar.
Meal plan: Dinner
The former capital of the Ahom Dynasty for some 600 years, Sibsagar is now a multi-cultural city in the Assam district of India. The area boasts the spectacular ruins of the Ahom Dynasty, including the old temples of Lord Shiva and Vishnu. Also of interest is the 18th century Rang Ghar, or 'Amusement House', which once served as the royal sports pavillion. The Ahom kings and nobles would sit on the balcony and watch traditional games such as buffalo fights in what is considered the largest amphitheatre in Asia. On the roof of this two-storey building is the design of an Ahom royal long boat and two stone crocodiles. A mixture of rice and egg paste was used as the mortar in construction. The Palace of Tatal, with its winding stone passages, is another masterpiece of the Ahom dynasty.


Read more