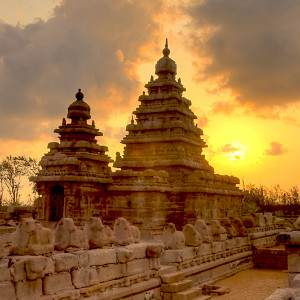 Day 1 : Arrival
Arrive in Chennai, where you will be met by a Travel The Unknown representative and transferred to Mahabalipuram. In the evening enjoy a guided tour of Mahabalipuram. Overnight in Mahabalipuram.
Meal plan: n/a
Though it is no longer a port, Mahabalipuram (also known as 'Mamallapuram') has retained its fame in stone, thanks to the great contribution of Pallava artisans. It is among the most outstanding examples of Dravidian art and architecture and a jewel in the crown of Tamil Nadu. In a land that is liberally strewn with some of the best in Hindu temple art, Mahabalipuram holds its own, and stands as a silent yet eloquent witness to the glory of its creators. Unfortunately most of the work was left incomplete, and time and nature have also eroded the remains of this once great port. 

There are nine rock-cut cave temples. The Mahishasuramardhini cave, contrasting the goddess fighting a demon on one side, and Lord Vishnu's cosmic sleep on the other, is particularly remarkable. Krishna Mandapam has a big bas-relief, notable for its realistic representation. The carved panel depicts one of the stories of Lord Krishna.


Read more