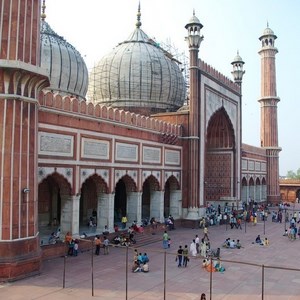 Day 1 : Delhi
Arrive in the morning into Delhi airport. Transfer to guesthouse. Freshen up and relax. Half day tour of Delhi, lunch en route. Drive by India Gate, the Presidential Palace, lunch en route, and then on to Old Delhi, visit impressive Red Fort. Immerse yourself in the chaos of Chandni Chowk on cycle-rickshaw. Stroll around magnificent Humayun's Tomb and its gardens, and watch it change colour as the sun starts to set. Evening to relax and enjoy sumptuous North Indian cuisine. Overnight in Delhi.
Meal plan: n/a
The walled city of Old Delhi, which includes the Lal Qila or Red Fort of Delhi, was established in 1650 AD by the Mughal Emperor Shah Jahan. The Spice Bazaar, or Khari Baoli, is a street in Old Delhi known for its wholesale grocery and is one of Asia's largest wholesale spice markets selling all kinds of spices, nuts and herbs. Operating since the 17th century, the market is situated close to the historic Delhi Red Fort. Learn about the spices on sale and smell their aromas. One of Delhi's most interesting buildings is the Jama Masjid (mosque), which is surrounded by traditional businesses that showcase centuries' old arts and crafts. There is also a marvellous old-fashioned shop where you can test Indian perfume from cut-glass bottles. You will saunter through the main bridal street of Old Delhi, Kinari Bazaar, with its dazzling display of embroidered silk wedding saris.
 

India's capital and a major gateway to the country, contemporary Delhi is a bustling metropolis, which successfully combines the ancient with the modern. Amidst the vast spiraling skyscrapers, the remnants of a bygone era in the form of its many monuments, stand as silent reminders of the region's ancient legacy. The first impression for any visitor travelling in from the airport is of a specious, garden city, tree-lined with a number of beautiful parks.


Read more