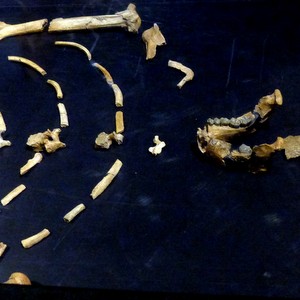 Day 1 : Addis Ababa
Arrive into Addis Ababa airport, where you will be met by a Travel The Unknown representative and driven to your hotel. Freshen up, rest and have lunch. Spend the afternoon sightseeing: see the St. George Church Museum, Ethnographical Museum, National Museum and Entoto Mountains. In the evening, have dinner at a traditional Ethiopian restaurant. Overnight in Addis Ababa.
Overnight in Tizez Hotel, Addis Ababa
Meal plan: Lunch & dinner
The National Museum in Addis Ababa holds an interesting collection of artefacts from Ethiopia's illustrious past but the undoubted star of the show is the remains of Lucy, a skeleton of a female Australopithecus afarensis, named from the Afar region of Ethiopia where she was found. Discovered in 1974, Lucy is 3.2 million years old and shares traits with apes (her skull) and with humans (walking upright), leading to claims of the 'missing link' having been discovered. Sometimes the museum exhibits a replica when Lucy is on tour at museums overseas.

The St. George Church was established in 1982 to preserve and promote Ethiopian Orthodox clergy. It is a small octagonal building that was the site of Emperor Hailie Selassie's coronation.

The two-storey Ethnological Museum is a great place to learn about the diversity of Ethiopia. It is structured like a story book, depicting the journey of life to death from different perspectives. 

Entoto Mountain, located to the north of Addis Ababa, offers a panoramic view of the capital. It is the highest part of the city and is historically covered in Eucalyptus trees, which are often referred to as the 'lungs of Addis Ababa'.


Read more