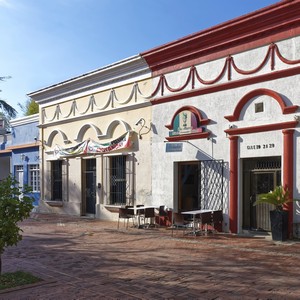 Day 1 : Bogotá - Santa Marta
Fly from Bogotá to Santa Marta. A Travel The Unknown representative will meet you at the airport and transfer you to your hotel.

In the afternoon, take a guided half-day tour of the oldest city in Colombia. Starting in the Bay of Santa Marta, continue to the Monument to the Tayrona gods and learn more about this culture that existed in that region long before the arrival of the Spanish. Visit the Casa de la Aduana Museum, which makes up part of the Antropológico and Etnográfico Museum, where there is a fine collection of Tayrona artefacts, and the Cathedral. Then, travel out to the Quinta de San Pedro Alejandrino with its beautiful gardens and where the great liberator Simón Bolívar passed away in 1830. Finally take a scenic tour of the bays of Rodadero and the fishing village of Taganga before returning to your hotel.
Overnight in La Casa del Farol, Santa Marta
Meal plan: Dinner
Positioned between the Sierra Nevada de Santa Marta mountains and the Caribbean Sea, Santa Marta's history, colonial architecture and beaches make it one of the most popular tourist towns for Colombians. Santa Marta is the oldest remaining city in Colombia, founded in 1525 by Rodrigo de Bastidas in order to exploit the gold treasures of the Tayronas. By 1600, the Tayrona tribe had been wiped out and the gold had all been taken. La Casa de la Aduana is the museum dedicated to the Tayrona's history. Simón Bolívar, who played a key role in Latin America's fight for independence, died in Santa Marta in December 1830. His house Quinta de San Pedro Alejandrino is now a museum.
Read more