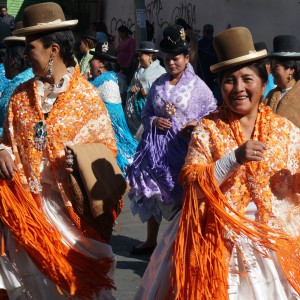 Day 1 : Arrival in Santa Cruz
On arrival into Santa Cruz you will be met by a Travel the Unknown representative and transferred to your hotel. In the afternoon, take a guided city tour visiting the main city attractions: Plaza 24 de Septiembre, Cathedral, Museums Etnofolkloric and Natural History. The tour culminates with a visit to the Casa de la Cultura, where native women of different communities display their most delicate and sophisticated handcrafts.

Please note: check-in at the hotel in Santa Cruz opens at 12pm. If you arrive in the early morning and would like to add on guaranteed early check-in, it is necessary to pay for an extra night's accommodation. Otherwise, you may store your luggage at the hotel until you check-in after 12pm. Please speak to your Travel Specialist for more information.
Overnight in Casa Patio, Santa Cruz
Meal plan: n/a
Santa Cruz is a city in the eastern central area of Bolivia, and the largest city in the country. It is currently considered one of the most rapidly growing cities in the world. The city was founded in 1561 by the Spanish, but moved locations in 1595 to its current location. The city is well-known for its diversity, colonial buildings, and vibrant tropical atmosphere.

Casa de la Cultura is the centre of cultural life within Santa Cruz. The building is split into two levels and surrounds a large courtyard. With a theatre on the top floor, the Casa also hosts exhibitions, classes, and meetings about city developments. It has been active since 1968.

The National Museum of Ethnography and Folklore (MUSEF) is a museum dedicated to the unique characteristics of Bolivia's many cultures. Founded in 1925, its main purpose is the educate people on the ethnic diversity of the country, and to preserve artefacts. Some items on display include costumes, masks, fabrics, and weapons.

The Noel Kempff Mercado Museum of Natural History is named after a Bolivian biologist. The museum houses many animal, mineral and plant specimens, as well as a library and photography exhibit. Its mission is to contribute knowledge and support conservation and sustainable management of biodiversity.


Read more