Loading
Iran Tours & Tailormade Holidays
Group Tours
News & Resources
Tour Descriptions
Tailormade Options
Route Map
The warming relations between Iran and the West has compelled many travellers to cast aside their uncertainties and to explore this country teeming with beautiful ancient temples, mosques, fortresses and striking monuments. Formerly known as Persia, Iran is brimming with archaeological treats that will enthral history buffs and art aficionados alike, as they absorb legends of ancient heroes. Discover imposing fortresses that were constructed by early civilisations (from Achaemenids to Safavids) and admire innovative mosque designs and ancient mountain relief paintings. The diverse natural landscapes will beguile hikers as they tackle the Middle East's highest peak, Mount Damavand, or traverse Iran's other impressive mountains and valleys. In any area of the country, however, visitors can look forward to engaging with warm-hearted locals, who are generous with their hospitality.
Iran Tours
Order our Iran Brochure
Iran Visa Information
Read our Iran Blog
Richard Stoneman (Glories of Persia)
"I shan't forget our evening reading Hafez by the poet's tomb at sunset, or the bookseller who sang passages of Attar to me. The kindness and friendliness of the people will stay with me for a long time."
Tour
Country
Dates
Days
Price
Classical Iran
Discover the history and culture behind modern Iran



Off the beaten track :

Activity :

Iran

02 Oct 2017
09 Oct 2017
16 Oct 2017
16 Apr 2018
08 Oct 2018

14
£ 2,595
Glories of Persia (Archaeology tour)
Journey into the history and archaeology of ancient Iran



Off the beaten track :

Activity :

Iran

09 Sep 2017
07 Oct 2017
14 Apr 2018
06 Oct 2018

16
£ 2,995
Grand Tour of Iran
In-depth tour to get under the skin of modern Iran



Off the beaten track :

Activity :

Iran

01 Oct 2017
22 Apr 2018
30 Sep 2018

21
£ 3,995
Silk Road through Persia
Ancient routes of merchants, scholars and smugglers



Off the beaten track :

Activity :

Iran

09 Oct 2017
14 May 2018
08 Oct 2018

19
£ 3,695
Troglodytes & Assassins
Get off-the-beaten-track in Northwest Iran



Off the beaten track :

Activity :

Iran

11 Sep 2017
16 Apr 2018
03 Sep 2018

14
£ 2,595
UNESCO Sites of Iran
Discover the unique wonders of Iran



Off the beaten track :

Activity :

Iran

07 Oct 2017
14 Apr 2018
30 Sep 2018

26
£ 5,295
News & Resources
NOTE: All of our Iran tours include your visa authorisation code. Please ask us for details.

UPDATE July 24th, 2015 - The Foreign & Commonwealth Office (FCO) have changed their advice to allow travel to the majority of Iran on the back of warming diplomatic relations between Iran and the UK and other Western countries. See their updated advice here.
Watch our Iran Video below by clicking on Play:
Tour Descriptions
Archaeology of Iran (see Glories of Persia tour)
Discover the beauty and splendour of the ancient Persian capital of Persepolis, walk the classical city of Hamadan, discover the ancient mud architecture of Yazd, and marvel at the history of Susa and carvings of Bisotun. Iran is a country with a profound and intriguing history, a vibrant culture and a warm and welcoming people. Explore the architectural wonders of ancient Persia and uncover the layers of history at the heart of modern Iran.
Western & Northern Iran (see Troglodytes & Assassins tour)
Western and Northern Iran boast ancient and medieval architecture, littered with churches, mosques, ancient temples and early Persian art. Discover the bygone temple relics at the Throne of Solomon and marvel at the mystical Sassassian rock relief carvings in Kemashah. See the mighty base belief of Darius I at Bisotun, with its inscriptions in lost languages, and the Temple of Anahita, with its serene lake pool. Explore the crumbling city of Sultaneih, 'The Land of the Sultans' and its rich cultural heritage, and witness the lost civilisation of Hamadan. See the idyllic Armenian St Stephano's Church, the mountain-set Babak Castle and admire the Blue Mosque at Tabriz. By the coast, delight in scenery and culture of Ramsar and explore the serene mountain village of Masuleh with its authentic rust-red houses.
Classical Iran
Take a fascinating journey through Iran's history and enigmatic architecture as you enter a world of dramatic fortresses, ornate palaces with stunning gardens, and archaeological and cultural gems. Travel the lost land of Ancient Persia and learn about the rich cultural history at the heart of modern Iran. Surrender to the chaotic energy of the Tehran Bazaar, and marvel at the circle-shaped fortress city of Firuz Abad. Discover the remains of the Zoroastrian community in Yazd, and witness the dramatic Towers of Silence and the eternal flame burning at the Fire Temple. Uncover legend at Persepolis, home of the Archaemenid Kings, and explore the stunning gardens at Kashan. Walk in the footsteps of Isfahan's ancestors by crossing Shiraz's spectacular river bridges, and enter a poetic maze of stunning palace gardens and boulevards. Uncover tradition in the 1000 year old mud-brick towns at Meybod and the Kharanagagh Village, and succumb to folktales at the cliff-town of Chak Chak. Admire architectural triumphs like the Islamic complex at the small town of Natanz and the mausoleum of Imam Khomeini in the traditional village of Niasar.
Tailormade Options
Should you prefer to travel independently then we can arrange a
private tailormade trip
for you too. Please review our group tours for tailormade ideas and complete our online
tailormade enquiry form
to let us know what you are looking to do and we will be happy to accommodate you.
Trekking, hiking & walking
Iran offers a multitude of excellent trekking and walking routes to suit all levels. Mount Damavand at 5,671 metres is the highest mountain in the Middle East and offers an excellent challenge to more experienced trekkers and climbers; likewise Alam Kuh in the Takht-e-Soleiman region. For village-based walking tours, the Valley of the Assassins, the Zagros region and the area South and West of the Caspian Sea afford numerous possibilities to experience Iran's nature as well as gaining a real insight into its culture, heritage and hospitality. Desert hikes can also be arranged. Kish island, in the Persian Gulf, offers excellent diving opportunities with an abundance of sea life, colourful corals and a multitude of sea wrecks of varying ages to explore.
Mount Damavand
Climb to the peaks of the Middle East's highest mountain with a beautiful trek through the Alborz mountain range. Gain fantastic views of the Caspian Sea and its ivory cliffs, as you get closer and closer to the summit. Take in the thrills of an environment shrouded by myth and folklore, and stand on the mountain known as the symbol of resistance in Persian literature. Feel the mystique that surrounds the mountain legend as you relax in its thermal springs.
Skiing
Iran boasts numerous excellent ski resorts including many within a short distance of Tehran. Due to the high altitude of many resorts the ski season is longer than in Europe - from mid- November until May typically. Dizin, the largest resort, also offers grass skiing in summer.
Meet Iran's Nomads
Iran is home to over one million nomads from dozens of tribes. The most distinctive and thus most famous are the Bakhtiaris and the Qashqais. The Bakhtiaris summer in the high Zard Kuh Mountains, South and West of Isfahan, and winter in Khuzestan, near the Persian Gulf. They wear a distinctive dress of wide trousers, a short tunic and a round hat, and are known for their unique style of music. Qashqais summer in the highland pastures North of Shiraz and winter almost 500km further South, nearer the Persian Gulf. They are renowned for their pile carpets. Meet and share a meal with these gentle pastoral people, and get an insight into their daily lives.
Iran's Deserts
There are two extensive deserts in Iran, Kavir-e-Lut, and Kavir-e-Markazi, covering an area of over 360,000 square kilometres, in central Iran. These vast expanses of sand dunes, salt lakes, steppe-like plains, and wadis of date palms and camel flocks are some of the most interesting, yet unknown areas in Iran. A vast network of Caravansaries follow ancient, camel-trodden trade routes and through the scorched salt flats of Kavir-e-Markazi.
Birding in Iran
With huge variation in habitat and climate Iran makes a perfect haven for wild birds. With 517 known species, the Pleske's Ground Jay is nonetheless the only truly endemic species, though the Caspian tit, Red-tailed wheatear, Sind-Pied woodpecker, and Caspian snowcock are near endemic and there are more than 50 endangered or critically endangered species. A sample itinerary covers the semi-arid lands inside Touran National Park to see Pleske's Ground Jay and Desert warbler, and a few days in Parvar to see Caspian tit and Caspian snowcock.
Culinary Iran
A variety of regional options including some cooking classes, tastings, meeting with passionate food producers, and market tours mixed with cultural experiences and sightseeing.
Women-only tours
Meet Iran's women, and find out who they are, learn about their experiences. From artists to sportswomen, fashion designers to weavers, singers and dancers. Visit Iran's classical sites along the way.
Special interest
- Literature tours - Music tours - Jewish tours - Christian tours - Sufi tours
Click to enlarge route map
Andy Pollard (Classical Iran)
"Iran is country I have wanted to visit for a long time. All my questions prior to and post booking were answered promptly. The trip itself was superb and the people were warm, friendly and welcoming."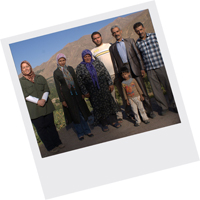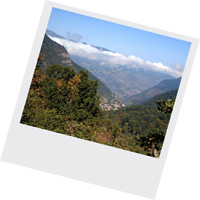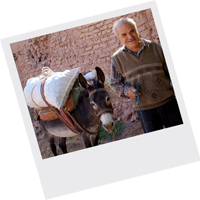 Peter Adams
(Glories of Persia)
"This was my first experience with Travel the Unknown, and it exceeded my expectations. The itinerary was comprehensive, the local guide exceedingly knowledgeable, and hotels carefully selected for convenience and comfort. Staff were readily accessible to answer pre-trip queries, and the visa application efficiently handled."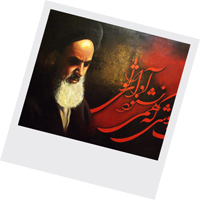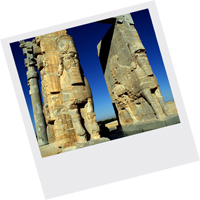 Nigel Semmens
(Tailormade Iran)
"This was probably the best holiday I have ever had. There was so much to see and do and we received the warmest of welcomes everywhere we went. Every aspect of the trip worked out as planned with no delays or changes."