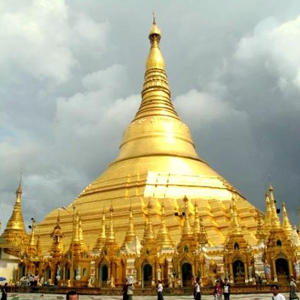 Day 1 : Yangon
You will be greeted at the airport by your Travel The Unknown representative and transferred to the hotel. Your guide and driver will pick you up for afternoon sightseeing. First you will visit the colonial centre of Yangon, the British administrative centre when they ruled India. Afterwards, visit the dazzling Shwedagon Paya, perhaps the most impressive Buddhist pagoda in South East Asia. Return to hotel and spend the evening at your leisure. Overnight at Yuzana Garden Hotel.
Overnight in East Hotel, Yangon
Meal plan: n/a
There are many colonial buildings scattered around Yangon. The buildings are evidence of the history of British rule. Downtown Yangon is known for the highest number of colonial period buildings in Southeast Asia. The most iconic of these buildings include the former Secretariat buildings, the City Hall, the High Court, the Strand Hotel and the former Inland Water Transport building. 

The 2,500 year old Shwedagon Pagoda is the most impressive and sacred Buddhist pagoda for the people of Myanmar. Standing just under 110m, it can be seen from almost everywhere in the city. It is stunning with its gold plate coating that reflects the sun. The crown is tipped with 5,448 diamonds and 2,317 rubies. At the very top, the diamond tip is a 76 carat diamond. This was also the stage for a speech given by pro-democracy leader, Aung San Suu Kyi, in 1988.


Read more