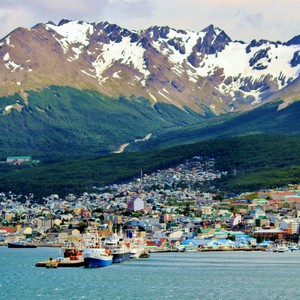 Day 1 : Ushuaia
At the place where the rest of the world ceases to exist, you will begin your epic Antarctic voyage. The mountainous fringes of the Tierra del Fuego and the Beagle Channel will wave you off in the afternoon as the ship embarks towards the vast open seas.
Overnight in Ship, The Janssonius
Meal plan: Dinner
Located at the foot of the snow-capped Martial Range where the Andes meet the Beagle Channel, Ushuaia is a bustling port town and adventure hub. The world's most southerly city and often referred to as 'the end of the world', it is the gateway to Antarctica, with cruises departing from the port throughout the summer season (from October to March).

The Beagle Channel has long been a draw for visitors to Patagonia with an interest in polar exploration; this 240-kilometre strait is the famous starting point for most voyages to Antarctica and was named after the HMS Beagle, which first visited the region under the captaincy of Robert FitzRoy and whose second voyage carried Charles Darwin as a passenger. Darwin described the glacial scenery surrounding the channel as 'magnificent' and 'beautiful', and these sentiments are shared by visitors to this day. Highlights of a voyage along the Beagle Channel include the Isla de los Lobos (Sea Lion Island), Isla de los Pájaros (Bird Island) and the iconic Les Eclaireurs lighthouse.


Read more