Loading
Sri Lanka Tours & Tailormade Holidays
Group Tours
Tailormade Options
Route Map
Unassumingly resting in the shadows of India, the tiny island of Sri Lanka is a tranquil retreat from its livelier and louder neighbour. However, with over 2000 years of culture from early Sinhalese civilisation and a total of 8 UNESCO World Heritage Sites, the island's treasure trove of iconic monuments belies its small size. From sacred cities and crumbling temples, to rock fortresses and cave monasteries, it's no surprise this precious island is known as the "Pearl of the Ocean". Discover Sri Lanka's melting pot of cultures, exploring ancient Buddhist sites before admiring the Portuguese, Dutch and British influences in the architecture of its colonial towns. Head up into the misty hills and wander through immaculately-manicured tea plantations and fragrant spice farms. Trek through the island's beautiful natural environment and marvel at its diverse endemic wildlife, from elephant herds in national parks to baby turtles in hatcheries. Finally, take to the coast and unwind on idyllic palm-fringed beaches - the epitome of a tropical paradise!
Sri Lanka Group Tours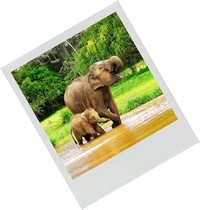 Tour
Country
Dates
Days
Price
Essential Sri Lanka
Temples, tea plantations & tranquil beaches



Off the beaten track :

Activity :

Sri Lanka

15 Oct 2017
15 Mar 2018

14
£ 2,195
Hidden Sri Lanka
Uncover mysterious legends and tales of Sri Lanka



Off the beaten track :

Activity :

Sri Lanka

22 Oct 2017
22 Mar 2018

14
£ 1,795
Wildlife of Sri Lanka
Tropical birds, leopards & elephant gatherings



Off the beaten track :

Activity :

Sri Lanka

29 Oct 2017
29 Mar 2018

14
£ 1,895
Sri Lanka Tours Route Maps
Map key:
Blue: Essential Sri Lanka - Orange: Hidden Sri Lanka - Black: Wildlife of Sri Lanka
Tailormade Options
We can arrange tailormade or private trips to extend your tour and include other places of interest as well as those on existing itineraries.
Tea
With tropical temperatures and two monsoon seasons, Sri Lanka's climate provides the perfect conditions for growing delicious tea. In fact, Sri Lanka is the fourth largest producer of tea in the world. Wander through the verdant landscape of manicured tea plantations and learn how some of the world's finest teas are created. Sip on luxury Virgin White Tea in the coastal Handunugoda Estate, or head up into the hills and unearth the origins of Britain's love of tea as you stroll through the rolling Caroline and Kelinworth estates of colonial Hatton.
Wildlife
With a wealth of varying landscapes and habitats, from swampy marshlands to abundant rainforests, Sri Lanka's wildlife is incredibly diverse. Explore the monsoon forests and wetlands of Yala National Park, home to the biggest concentration of leopards in the world, or witness the incredible phenomenon of the elephant gatherings at Minneriya and Uda Walawe National Parks. Learn about conservation efforts to protect Sri Lanka's endemic species at the Sinharaja Rainforest Reserve, the country's last viable area of tropical rainforest, or follow the journey of baby hawksbill turtles at Kosgoda's Turtle Hatchery as they are safely released into sea.
Beaches
Surrounded by the Indian Ocean, Sri Lanka is renowned for its idyllic white sand beaches, with 1,600 kilometres of palm-fringed coastline. Whether you are looking to dive, surf, or simply unwind on the sand, there is certainly no shortage of tranquil tropical beaches to enjoy. While tourists flock to the more developed west coast, you can find Sri Lanka's quintessential rural atmosphere to the south and east. If waves are what you are after, Arugam Bay is home to some of the best surfing in the country, while the coastal stretch between Dalawela and Ahangama is one of the most notorious places to witness the emblematic stilt fishermen. To escape the crowds, retreat further along the east to the untouched Uppuveli Beach for the perfect sleepy haven.
Festivals
With four major religions on the island, festivals are an integral part of Sri Lankan life, often claiming to have more festivals than any other country in the world. Traditionally following the lunar calendar, every month brings a different celebration. Whether taking part or just watching from the sidelines, witnessing a Sri Lankan festival is a spectacular way of experiencing the country's diverse identities and cultures. Here are just some of the festivals worth experiencing in Sri Lanka:
Kataragama Esala Festival (Jul/Aug)
Watch as elaborately-decorated elephants take centre stage in the vibrant and lively Kataragama Esala Festival. Intertwining the major religions of Sri Lanka, pilgrims from all over the island and even India attend to present their offerings and prove their dedication to the Skanda deities, while a procession of fire walkers, traditional Kawadi dancers and acrobats provide a truly unforgettable performance.
Esala Perahera (Jul/Aug)
Witness the colourful celebrations of the historic Esala Perahera Festival in the streets of Kandy. Dating back to the 4th century, the annual festival honours the sacred Tooth Relic of Buddha as a replica is carried on the back of a Maligawa Tusker elephant. With thousands of drummers, acrobats and fire-breathers, as well as processions of up to 100 jewel-encrusted elephants, this is one of the most spectacular festivals in Sri Lanka.
Galle Kite Festival
Amble along the shores of Galle Face and marvel at the uniquely shaped kites of the Galle Kite Festival. From dragons to birds and horses to ships, each handmade kite is an expression of creativity, assessed by a panel of judges based on size and individuality. The display of thousands of colourful kites filling the sky over Galle's seafront is a truly mesmorising sight.